Hey, freelancer...
take control of your business
Implement this tried & tested framework to attract higher quality clients, upscale your income and find more joy.
A great blend of practical advice and insight: invaluable to any service-based freelancer looking to grow their client base and build the business they love.
Helen, Marketing Consultant
The book helped me move from bespoke pricing to one offer with clear outcomes, which I immediately sold successfully. Really actionable, bullshit-free advice. I loved it.
Jake, Copywriter
I've been freelancing for 23 years but the book challenged my thinking many times. Tweaks to my mindset and offer, all prompted by this teenie book!
Anna, Copywriter
Totally worth it! The dream project worksheet alone is worth enough to buy the playbook.
Shawn, Web Designer
The book is a great read, short and to the point without all the fluff other business books I have read have.
Neil, WordPress Consultant
Best £5 I've spent in a while!
Abbey, Full Stack Marketer
From fragile freelancer to thriving business owner
In this book you'll find a complete end-to-end system for creating a profitable, customer-focused business.
Upgrade your mindset

Learn how to "see" your own self-sabotaging behaviour so you can build a strong mindset that will power your business forwards.
Develop your strategy

Get ridiculously clear on who your dream client is and learn how to develop your own unique, high value service package.
Market your service

Get outreach scripts, a messaging framework + step-by-step guide to identify and sell your service to high-paying clients.
Take meaningful action after every chapter
Each section includes readymade, downloadable templates so you can put your learning immediately into practice.
Section 1 - Beliefs
Replace negative assumptions with empowering statements.
Section 2 - Values
Tune into your values so you can create a purposeful business.
Section 3 - Dream project
Define your dream project so you can qualify prospects easily.
Section 4 - Persona
Get to the heart of what your ideal clients want and need.
Section 5 - Offer
Create an amazing service package that will set you apart.
Get proven examples and resources for lead generation.
Get a framework for generating infinite content ideas.
Develop a method to create an endless flow of inbound leads.
Want reassurance?
14 day money back guarantee
If you don't feel you get value from this book simply request your money back within 14 days for a full refund.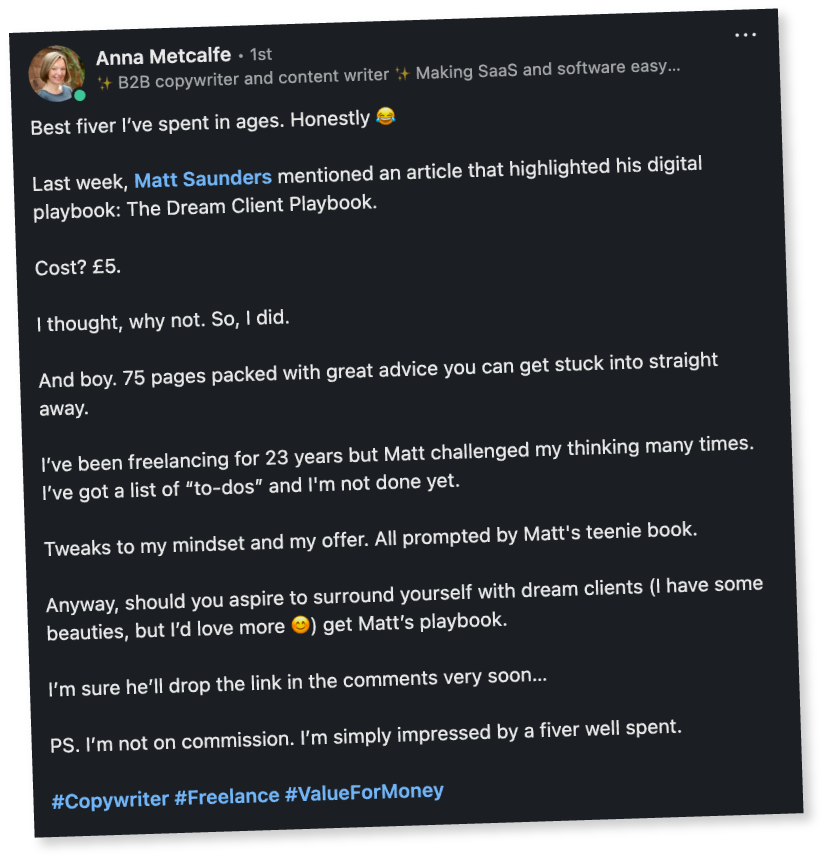 Created with